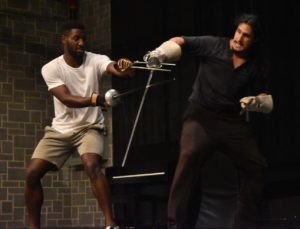 The Academy of Fight Directors Canada is the primary function and training arm of the organization. It is a not for profit educational entity which serves as Canada's only internationally recognized national certification body for combat artists. The Academy is dedicated to the education, development, advancement, and proficiency of action-oriented entertainment in theatre, television, and film. It is the primary source of training in all major educational institutions across the country.
The Academy offers the highest Certification standards available and a level system of proficiency recognized worldwide. The academic standards, research, and development are managed by the College of Fight Masters who work with our College and University partners who use our certification process as part of their degree granting programs.
The Academy's mission is to educate through our extensive training programs, leading to growth and development at various levels, thus allowing you to gain the technical and artistic skills needed to ultimately excel in a professional environment.
Since its inception in 1993, Fight Directors Canada has changed the face of combat in our theatres and schools. We are proud to say that you do not need to look far to meet someone who has been touched by Fight Directors Canada, and we look forward to continued growth in the years ahead. We will to continue to raise the bar on the quality of the work, the safety of our artists and the development of the Art Form. Fight Safe! Or a least hire someone who can!